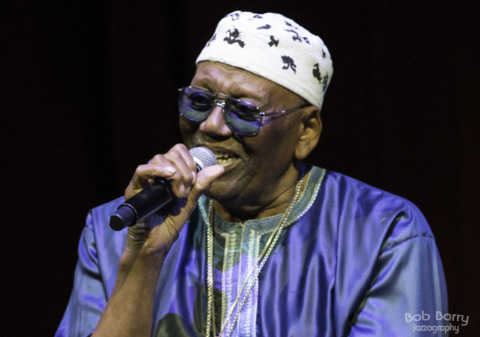 "The Jazz Bakery presented Randy Weston many times in concert. He was scheduled to return again on November 18th, as part of our National Endowment for the Arts 'Jazz Masters Series.' Randy was a consummate pianist and a truly wonderful, warm human being. The musical community will be the  poorer for his absence. I will miss him." –Ruth Price
TWO AGELESS 90-YEAR OLDS - by Scott Yanow
This appears in the November issue of the Los Angeles Jazz Scene
The great Randy Weston, a major pianist and composer since the mid-1950s, is now 91. In his career, in addition to creating his own voice on the piano out of the inspirations of Thelonious Monk and Duke Ellington, he composed such songs as "Hi-Fly," "Little Niles" and "Berkshire Blues."
            Performing a solo set at the Moss Theater in a concert sponsored by the Jazz Bakery, Weston showed that he is still at the peak of his powers. He played piano with the power and creativity of a musician half his age and talked with confidence and insight to the audience. Weston began with "Ballad For T," a medley of music for Thelonious Monk. Heard along the way were "Ruby, My Dear," "Misterioso" and "Well You Needn't," along with Weston's ruminations and inventive interludes. Next he performed what he called "Blues For Duke" which treated some Duke Ellington-associated songs in a similar fashion. Ironically, two of the three pieces that were explored ("Caravan" and "Take The 'A' Train'), unlike "C Jam Blues," were not actually composed by Duke but Weston closely emulated Ellington's piano style. He then spoke about the late arranger-trombonist Melba Liston and performed a suite that included his "Berkshire Blues," "Little Niles" and "African Sunshine." Weston concluded with an improvisation that musically depicted ancient Africa.
            All in all, I've come to the conclusion that Weston is 61 not 91.
            Barbara Dane, who turned 90 last 
May 12
, has had a remarkable and varied career. In the late 1950s she was well known as a traditional jazz and blues singer, working with Kid Ory, George Lewis, Turk Murphy, Jack Teagarden, Muddy Waters, Willie Dixon and even on television with Louis Armstrong. Always a political activist, she became more active in folk music and protest songs in the 1960s. In 1966 she was the first American musician to tour Cuba.
            She celebrated her 90
th
birthday at UCLA's Royce Hall with a very enjoyable concert that put the focus on her versatility and ageless singing. At the beginning of both of her sets, filmed excerpts from a documentary that is still in progress let the audience know about her accomplishments in many areas of music. Still possessing a strong voice, Ms. Dane was joined at UCLA by a rhythm section comprised of the excellent pianist Tammy Hall, bassist Daniel Fabricant and drummer Darla Johnson. After swinging through a few numbers and performing Abbey Lincoln's "Throw It Away," they were joined by the Chambers Brothers who she had championed and performed with in the mid-1960s. They performed some folk songs with Ms. Dane (including "Let My People Go," and "Together We Can Move Mountains") with the audience singing along, did a few numbers by themselves, and reminisced. Barbara Dane's son Pablo Menendez, a major part of the Cuban music scene for a half-century, was featured on guitar, harmonica and vocals, proving to be both a friendly presence and a potent blues performer. The second half of the program again featured Ms. Dane alternating between jazz (including her lyrics to Duke Ellington's "All Too Soon" and King Pleasure's "
Tomorrow
 Is Another Day"), blues and folk/protest music. Her grandson Osamu Menendez took some fine rockish blues guitar solos and his wife Tory Gomez sang a bit. Barbara Dane seemed to get stronger as the night progressed and probably could have performed another hour without any difficulties or loss of passion. She is definitely a living legend.