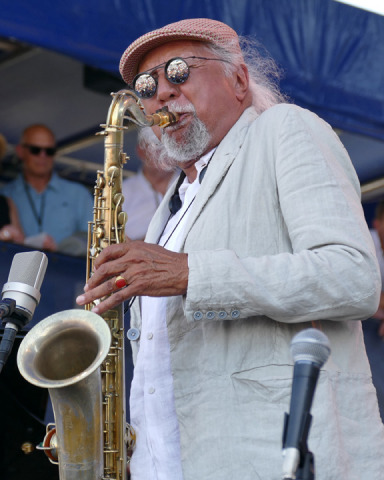 Prior to his upcoming Jazz Bakery performance at the Moss theater, Lloyd took a moment to answer some questions from Andrew Gilbert. Gilbert contributes features on jazz and international music to numerous publications, including the San Jose Mercury News, Boston Globe, San Francisco Chronicle, Seattle Times and Los Angeles Times. 
AG: The piano chair in your band has featured some of jazz's greatest artists, from Keith Jarrett, Michel Petrucciani and Bobo Stenson to Geri Allen and Jason Moran. What draws you to a pianist?
CL: I was blessed that Phineas Newborn discovered me early and took me to the great Irvin Reason for alto lessons. Phineas was an important mentor and planted the piano seed in me. That seed sprouted and lead me to some of the greatest pianists on the planet; Terry Trotter, Don Friedman, Herbie Hancock, Keith Jarrett, Michel Petrucciani, Bobo Stenson, Geri Allen, Jason Moran and Gerald Clayton. To this day, Phineas still informs me.
AG: Can you tell me a little about what Gerald Clayton brought to your band?
CL: A few years back, Jason had a family obligation and couldn't make it to one of our dates - I invited Gerald to sit in for the night. That night flowed into another night. Nine months later, I invited him to join me in Poland to perform the premiere of my new work; "Wild Man Dance Suite," which subsequently, was released on Blue Note Records in 2015. We have done a number of concert tours since then. Gerald is a poet, a sensitive, and brings a beautiful fluidity to the music.
AG: The duo setting seems to allow a different kind of conversation between musicians. I've loved hearing how you use space in Sangam. Can you talk about space as a major element of the duo with Gerald?
CL: Without space you can't listen. If you can't listen, there is no room for conversation.
AG: Gerald has been taking a deep dive into the Piedmont Blues, exploring both the sacred and secular African-American music of North Carolina, kindred currents to your Memphis roots. I feel that the blues is present in everything you play. Can you talk a little about the blues as a formative influence on you?
CL: I grew up steeped in the Blues. They are a part of my fiber. Nancy Wilson once called me a "bluesman on a spiritual journey." That seems to sum it up…
Saturday, November 24 - 8:00pm
Moss Theater