Sun, Nov 18, 2012 - 8:00 pm
Buy Tickets
$25 general - $15 students - 1 Show
Information Line: (310) 271-9039
Direct Ticket Line: (800) 838-3006 ext. 1
Musicians Institute Concert Center
Parking:
Limited street parking / Paid parking - across the street (price varies wildly) / Public lots near Selma and Las Palmas one and a half blocks east of McCadden - $5 to $8.
Directions
Audio
Upcoming Events
Moss Theater (New Roads School at The Herb Alpert Educational Village)
Musicians Institute Concert Center
Moss Theater (New Roads School at The Herb Alpert Educational Village)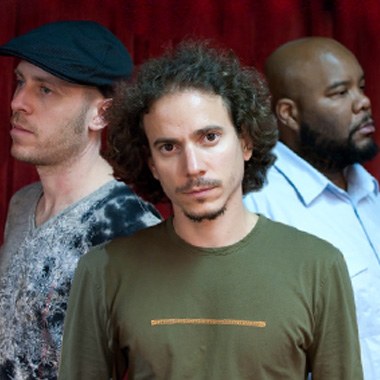 Since making its debut at the Whitney Museum in early 2009, the Proverb Trio has deepened its rapport and honed its sound in a series of New York club appearances and on a tour of the Western US. The entirely improvised interactions of Dafnis Prieto's virtuosic and dynamic drumming, Kokayi's rapid-fire rapping and soulful singing, and Jason Lindner's harmonic sophistication and daring pianistic sound explorations yield exhilarating results. Because the group creates advanced compositional structures on the spot, the music is full of surprises and takes a different, explosive shape every night, but always with the Proverb Trio's distinct personality and engaging spirit.
The seeds for the Proverb Trio were planted when Cuban-­‐born drummer/composer Prieto and Washington D.C.–based poet and vocalist artist Kokayi first performed together at the 2004 Saalfelden Jazz Festival in Austria. Their immediate musical rapport inspired them to play several more duo concerts in Europe and New York, after which they were ready to expand into a trio with keyboardist Lindner, who had collaborated with Prieto in the drummer's Absolute Quintet.
"Prieto has transformed Afro-Cuban rhythms to the trap set with a light touch and a gracefully deceptive manner of speeding up and slowing down tempos. These pieces are emotionally charged and stylistically diverse, carried along not just by rhythm but also through lovely harmonized passages, horn fanfares, and powerfully conjured moods." – Larry Blumenfeld, The Wall Street Journal
Featuring:
Dafnis Prieto

drums

Kokayi

vocals, poetry

Jason Lindner

keyboards