Sat, Oct 19, 2013 - 8:00 pm
Buy Tickets
Information Line: (310) 271-9039
Direct Ticket Line: (800) 838-3006 ext. 1
Zipper Concert Hall-The Colburn School
200 South Grand Ave.
Diagonally across from Disney Hall
Parking:
Paid parking is available in Disney Hall or at MOCA.
Directions
Audio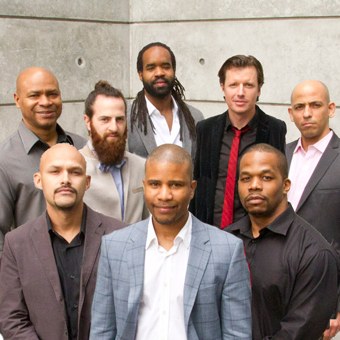 "You can propose various definitions for what this band represents, but it's a superbrain for what serious jazz sounds like now." – The New York Times
It has been years since the Collective has appeared in LA, and this is a first for this particular line up !
Usually the SFJAZZ Collective chooses a composer like Ornette Coleman, John Coltrane, Herbie Hancock, Thelonious Monk, Wayne Shorter, McCoy Tyner, Horace Silver, Stevie Wonder, or Chick Corea and performs their works arranged for the Collective. But this year is their 10th anniversary and they wanted to look back in celebration of their greatest arrangements and original compositions.
As soloists, composers, and bandleaders, the SFJAZZ Collective represent what's happening now in jazz. Through its diverse membership, the Collective demonstrates that jazz has truly become an international language. Hailing from Puerto Rico, Baltimore, New York, Venezuela, Israel, and New Zealand, the Collective's multi-cultural lineup mirrors the explosion of jazz talent around the globe. The jazz community only reached its current state by maintaining its traditions while simultaneously embracing innovation. This, too, is the essence of the SFJAZZ Collective. These exceptional artists come together in the name of jazz as a constantly evolving, quintessentially modern art form...
This exactly reflects the past and future mission of The Jazz Bakery !
 
Featuring:
David Sánchez

tenor saxophone

Miguel Zenón

alto saxophone

Avishai Cohen

trumpt

Robin Eubanks

trombone

Warren Wolf

vibraphone, marimba

Edward Simon

piano

Matt Penman

bass

Obed Calvaire

drums