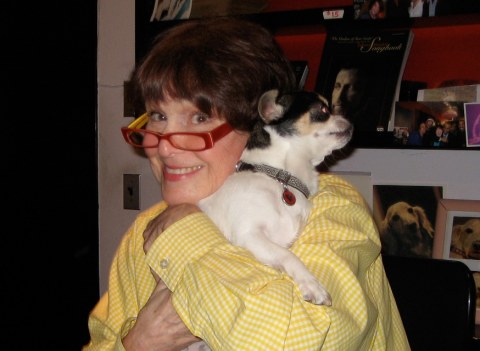 The June 15, 1955 issue of Down Beat magazine's Philadelphia column perfunctorily noted that Buddy Rich followed Johnny Smith into the Blue Note and that Miles Davis had been a recent guest at Music City, Ellis Tollin's music store.  The overflow crowd indicated to Tollin that he should look for a larger venue to host his daytime weekend jazz recitals. He'd taken a risk by presenting jazz headliners who were playing that city's nightclubs to underage young people hungry for the music.  The informal concerts had paid off, and not just monetarily.  Those presentations would have repercussions for the Los Angeles jazz audience 30 years later, and they still reverberate today.
That column also made this brief mention: "…Ruth Price recorded first LP with local label…"  Those jazz sessions at Music City were crucial to the budding singer's artistic development.  She never forgot them, or the portent that such exposure could hold for young people.  In a very real sense, Ruth Price has carried the values of those formative experiences with her throughout her career, and never more so than in her role as artistic director of the Jazz Bakery.
Along with Catalina Popescu, Price has been one of the two most important Los Angeles jazz impresarios for the last 25 years.  She's presented the music in spaces where the focus is on listening, without the distractions that are inevitably part of hearing jazz in restaurants or nightclubs.  She's also made the music available to young listeners and musicians—not just with student admissions-- but routinely booking school ensembles of all stripes at the Bakery.
Benny Carter, Jimmy Rowles, Marian McPartland, James Moody, Art Farmer, Roy Haynes, Johnny Griffin, Ahmad Jamal, Bud Shank, George Coleman, Cecil Taylor, Abbey Lincoln, Paul Bley, Elvin Jones, McCoy Tyner, Mark Murphy, Joe Henderson, George Coleman, Houston Person & Etta Jones, Cedar Walton, Joe Lovano, Andy Bey, Brad Mehldau, Fred Hersch, Tierney Sutton and Kurt Elling are just a very few of the many headliners in the Bakery's history.  Ernie Watts, Lee Konitz & Alan Broadbent, John Hicks & Frank Morgan, Denny Zeitlin & Dave Friesen, Sam Rivers, and Dave Frishberg are just some of the artists who have live albums there.
Despite her role as bulwark for the L.A, jazz community, Price has never been formally recognized for her role as impresario, until now.  On 
April 6
, the California Jazz Foundation makes her the focus of its annual gala fundraiser event at the Hyatt Regency Downtown. With the thme of brotherly love, the Heath Brothers (saxophonist/composer Jimmy and drummer Al 'Tootie' Heath), the Clayton Brothers (saxophonist Jeff and bassist/composer John), pianists John Beasley and Tom Ranier, vocalist Dwight Trible, and bassist Tony Dumas are some of the performers who will share the stage.  As the CJF helps musicians in need with material support, Ruth Price is a fitting honoree.    
Presenting music wasn't an enterprise that she undertook capriciously, and it wasn't her first jazz rodeo.  Price had tried booking jazz in several places prior to the Bakery's 1991 inauguration.  A hotel in Long Beach, an eatery in Brentwood, and a restaurant in West L.A. served as trial runs.  She saw how a food and beverage manager could wipe out an affixed music policy with a wave of a hand.  She was left holding the financial bag for payment of musicians when an owner didn't hold up his end of the agreement, and she brought music into an establishment run by what she called "a pig of a man."  When the last partnership proved untenable, Price may have taken a small measure of satisfaction that the jazz policy she began and nurtured would continue for years.  She knew she needed a new venue, and she knew it couldn't be a club or a restaurant.
A chance meeting with photographer Jim Britt led to Price presenting music in his Culver City studio.  They began with music on the weekends, laboriously setting up chairs and tables and breaking them all down after every night.  When the Jazz Bakery opened, Catalina's was in its original Cahuenga location, the Cinegrill, Le Café, the Vine St. Bar & Grill, Lunaria and Marla's Memory Lane were all booking the music.  Price knew that if the Bakery was going to survive, it had to be distinctive. 
She wanted to present artists with name-value, but also lesser-known musicians.  One of her first bookings, in August 1991, saw trumpeter Brian Lynch.  He was not long out of the Jazz Messengers but certainly not a household name.  Price paired him with a good local rhythm section (pianist Larry Nash, bassist Tom Warrington and drummer Sherman Ferguson).  The high ceiling and bare walls made for good acoustics, and cake and coffee were served between sets. 
Price's friend Lee Wilder was a dividend to the struggling enterprise.  As an 18-year old in 1947, Wilder took over Ross Russell's Tempo Music Shop on Hollywood Boulevard.  It was the one record store in L.A. that consistently stocked all of the modern jazz sounds, and it was a mecca for listeners and musicians.  Her subsequent marriage to drummer Larry Bunker put Lee in the echelon of L.A. jazz royalty, with Shelly and Flip Manne and other high-profile couples.  After her divorce, she worked in executive positions at A&M Records and Motown.  At the Bakery Wilder helped Price with administrative tasks and supplied business advice.  Many Bakery patrons were reassured and delighted by Wilder's quiet, professional presence at the admission table.    
There was nothing novel about jazz in a recital hall but it hadn't been done in Southern California for quite awhile.  In presenting the music in such a space, Price was not only providing a musician-friendly showcase, she was also grooming an audience. New York guitarist Gene Bertoncini, though a marvelous player, was a stranger to the L.A. jazz audience.  When he took the Bakery stage, his first words were: "What a thrill to be working in front of such a wonderful, appreciative audience."
Of course, Ruth was no stranger to performing venues.  As a girl in Phoenixville, Pennsylvania, Edithea Brinton was a ballet prodigy.  But music called to her; in fact, it chose her.  The musicians around her couldn't help but be impressed by her feeling for the music, especially when she sang.  With their encouragement she left dance and turned to singing full time, but not before she took the professional name of her dance teacher: Ruth Price. The hip monologist Lord Buckley made her a part of his floating "royal court" by dubbing her Princess Merry Legs.
Deejay Al 'Jazzbo' Collins, in the liner notes to her debut release (My Name is Ruth Price…I Sing, on the Kapp label) noted her simplicity and unforced, natural vocals.  "I never thought about being a jazz singer, per se," she once said.  "I just opened my mouth and sang, and that's what musicians told me I was."
She began working what she called "the animal circuit": fraternal order and civic organizations functions for such as the Lions and Moose Clubs.  Soon she had an agent, and was booked all over Pennsylvania and nearby states—sometimes in very unlikely circumstances.  Entering the dressing room of one club, she said hello to the headliner, a dour and chubby exotic dancer who was once the toast of New York's 52nd Street. Noticing a large wicker basket, Price began readying herself for the stage.  When something in the basket stirred and it moved, she found out that Zorita's prop was a live boa constrictor.  Many years later Ruth formulated her own comic epitaph: She never learned to play tennis, she wouldn't work at JAX, and she wouldn't share a dressing room with a snake.  
Working out of Philadelphia, musicians gravitated to her.  Philly Jo Jones, equally legendary for his drumming and prodigious drug consumption, hustled a lot of gigs for the two of them, filled out by many of Philly's best jazz musicians; John Coltrane was one of them.  Throughout their association, Philly Jo was always a perfect gentleman around Price.
Musicians were always her biggest champions.  They appreciated the lack of pretention and flippant airs.  Never the high-strung diva living out personal drama in her songs, Price made the music the star of her performances.  When the Roost label--a notorious mob-connected operation--pressured her to record, Ruth relented on one condition: that she be allowed to work with guitarist Johnny Smith, a Roost regular.  Barry Ulanov, one of the guiding hands at Metronome magazine, praised her enunciation and eloquence in his liners to Ruth Price Sings With the Johnny Smith Quartet (1956).
By 1958, she gained national attention and came to L.A. to tape the weekly ABC TV show "Stars of Jazz," hosted by Bobby Troup.  On a blind date with a rhythm section, she sang with pianist Victor Feldman, bassist Scott LaFaro and drummer Stan Levey--sounding as though she'd been working with them for years.  Her full-throated alto glided over the rhythm, like a Lester Young saxophone line would.  A week later she was singing in Shelly Manne's band.
As in Philadelphia, Price earned the respect of local musicians.  Her unmannered singing, wash-and-wear hairstyle and dedication to the music made her something more than just a "girl singer."  She saw herself, and was treated in kind by musicians, as "one of the guys." 
That camaraderie saw her not only working with Manne, already the first-call drummer in the Hollywood recording studios, but as a lieutenant in another venture.  Shelly made a handsome living playing on all kinds of record dates—movie and TV soundtracks, folk singers, pop music, jazz sessions—but he was chagrinned that L.A. didn't have a first-rate jazz club.  Ruth accompanied him as he scouted locations around L.A.  They discussed the qualifications of an ideal venue and noted the pros and cons of various nightspots.  The Lighthouse in Hermosa Beach, The Renaissance in West Hollywood and the Summit at Sunset and Cahuenga were the only clubs consistently booking jazz.  Gone were The Haig, The Tiffany, Jazz City, The Oasis, Peacock Lane, Zardi's, The Digger and other jazz showcases.  The need was acute.
In February 1960, Manne told an interviewer of his need to establish a permanent place for L.A. jazz musicians to play.  He also offered a credo: "I believe that the person who runs a jazz club should like the music just as much as the musicians."  Ironically, Shelly's Manne-Hole opened on the site of a club he had worked a couple of years earlier, only to be stiffed by the owner.
It formally opened in November 1960 and quickly became the center of L.A. jazz. Musicians were kings at Shelly's; for once, their every need was provided.  Weeknights local players like Paul Horn, Dexter Gordon and Curtis Amy led their groups, while Shelly Manne and His Men were weekend fixtures.  Price was one of the house vocalists, along with Helen Humes, Irene Kral and blues singer Big Miller.  In its first year of operation, Manne lost $8,000.
By the end of 1963, the Manne-Hole was booking national names, beginning with the John Coltrane Quartet.  At the same time, space was made for worthy local groups, like the experimental big band led by bassist Ralph Peňa.  Price must surely have taken note of the accommodation that Manne made to deserving local players.  Her Bakery bookings would include piano duets between Horace Tapscott and Nate Morgan, nights devoted to the music of Russ Freeman or Jimmy Rowles, showcases for tap dance companies, or a panel-and-concert book party for Gene Lees' biography of Woody Herman, Leader of the Band.
     When the Bakery lost its permanent home in 2011, it was a shock, but Price continued presenting the music in choice venues under her "Moveable Feast" banner.  Culver City gave her a free plot of land for the new Bakery site; the Annenberg Foundation gave her a generous grant; and architect Frank Gehry is designing a new building. 
     Now the California Jazz Foundation is honoring Ruth Price in a music event that the Bakery's audience can participate in.
L.A. Jazz Scene, March 2014