Thu, Feb 20, 2014 - 8:30 pm
Buy Tickets
General: $30 Students: $20
One show - no intermission
Information Line: (310) 271-9039
Direct Ticket Line: (800) 838-3006 ext. 1
REDCAT
631 W. 2nd St.
(In the Walt Disney Concert Hall Complex)
Parking:
Under Disney Hall ($5 after 8pm) or MOCA
Directions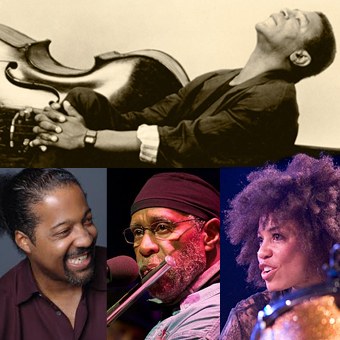 Imagine the "Modern Jazz Quartet" with a stretched out post-bop passion…
Buster Williams and "Something More" Are Something Else !
It would be hard to imagine something more than what Buster Williams' all-star quartet brings to the table. Picture the Modern Jazz Quartet with a stretched out post-bop passion… this would only begin to convey the level of artistry and excitement of Williams' crew. While we often see a master bandleader in the company of young lions, we seldom get the chance to see a master in collaboration with other musicians of this caliber. Each member of "Something More" has a well-established and well-earned, renowned reputation.
Buster Williams — is quite simply a giant ! We will seldom (if ever) have the opportunity to enjoy a more elegant  (yet grounded) melodic bassist.
Eric Reed is a profoundly joyful pianist who enriches the mix of every band he joins.
Drummer, Cindy Blackman proves just how fiercely a woman can swing ! And she's been spreading the word for years.
Bennie Maupin who has played and recorded with both Miles Davis and Herbie Hancock is an engrossing multi-reed player with an all-encompassing range of style and genre at his command.
Featuring:
Buster Williams

bass

Eric Reed

piano

Cindy Blackman

drums

Bennie Maupin

woodwinds