Sat, Jan 26, 2019 - 8:00 pm
Buy Tickets
General: $35 Students: $25
Information Line: (310) 271-9039
Direct Ticket Line: (800) 838-3006 ext. 1
Moss Theater
New Roads School at The Herb Alpert Educational Village
3131 Olympic Blvd.
Parking:
Free parking onsite. Between Centinela and Stewart St. Enter at New-Roads-School sign. Theater is immediately on right.
Directions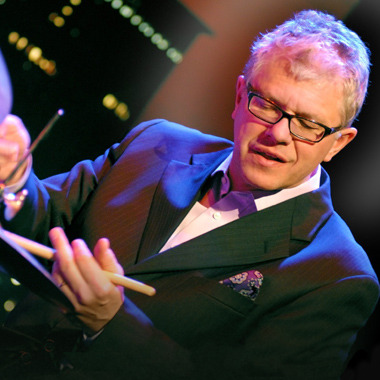 "Few musicians embody the spontaneous energy of jazz like Matt Wilson. His buoyant zeal, idiosyncratic style, infectious humor and joyous swing maintain an indomitable spirit of surprise. Wilson approaches music as a man on a mission. He fosters a lively and passionate connection between music and people, be they audience or fellow players. Nate Chinen, JazzTimes 
Matt's award winning Carl Sandburg project: "Honey and Salt" has been funded by Chamber Music America and will be presented by the Jazz Bakery at the Moss Theater in early 2020.
Jeff Lederer is a New York based saxophonist, clarinetist and composer. Jeff's work crosses the genres of jazz, Latin and improvised music. His cross-stylistic projects include "Los Sazones", a salsa reimagining of Vivaldi's "Four Seasons" commissioned by the Ravinia Festival and performed by major orchestras including the Los Angeles Philharmonic at the Hollywood Bowl.
Rounding out the quartet are guitarist Larry Koonse and bassist Derek Oles... two globally recognized musicians who make their homes right here in Los Angeles... and aren't we the lucky ones to have them!
Featuring:
Matt Wilson

drummer

Jeff Lederer

saxophone, clarinet

Larry Koonse

guitar

Darek Oles

bass