Sat, Feb 25, 2023 - 8:00 pm
Buy Tickets
Information Line: (310) 271-9039
Direct Ticket Line: (800) 838-3006 ext. 1
Nate Holden Performing Arts Center
Parking:
FREE valet parking! Restricted street parking also available (just be sure to get a valet ticket to put in your car)
Directions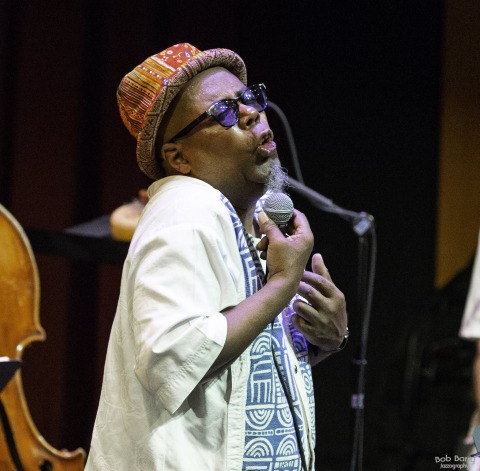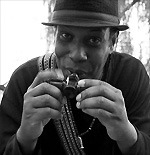 Dwight Trible & Kahil El'Zabar's Ethnic Heritage Ensemble 
A Celebration of Black History
Musical Tribute to David Ornette Cherry
In November 2022 prolific composer/musician David Ornette Cherry (son of the great innovator Don Cherry) passed into ancestry while on tour in London with the legendary Khalil El'Zbar Ethnic Heritage Ensemble.
David was born the same year Ornette Coleman and Don Cherry recorded their first album, SOMETHIN ELSE. The ambient music streaming through his childhood was generated by the early collaborations of his dad with Coleman and the musicians who visited his parents' Mariposa Avenue home in Los Angeles. The pulses and melodies that arise from his jazz, classical, African, world music background, and from playing with some of the great jazz artists of our times, speak about our human experiences through the the language of sound.
Dwight Trible combines the best of vocal virtuosity with musicianship and improvisational skills to the delight of audiences and musicians alike. In addition to performing with his own group Dwight is the vocalist with the Pharaoh Sanders Quartet and is also the vocal director for the Horace Tapscott Pan Afrikan Peoples' Arkestra. He uses his music to bring people together, to bridge the gap between the races, and to heal the human heart. He has received numerous awards for his humanitarian efforts.
Kahil El'Zabar is one of the iconic jazzman from Chicago. His Ethnic Heritage Ensemble creates a stalwart of spiritual and afro-futuristic jazz with a significant contribution in the continuation of the scene over the last four decades. Their driving compositions, simple themes that gain complexity through repetition and improvisation. 
Featuring:
Dwight Trible

Voice

Kahil El'Zabar

Percussion

Ralph Moore

Tenor Saxophone

Joshua White

Piano

Corey Wilkes

Trumpet

Alex Harding

Baritone Saxophone