Sat, Oct 14, 2023 - 8:00 pm
Buy Tickets
Information Line: (310) 271-9039
Direct Ticket Line: (800) 838-3006 ext. 1
Moss Theater
New Roads School at The Herb Alpert Educational Village
3131 Olympic Blvd.
Parking:
Free parking onsite. Between Centinela and Stewart St. Enter at New-Roads-School sign. Theater is immediately on right.
Directions
Upcoming Events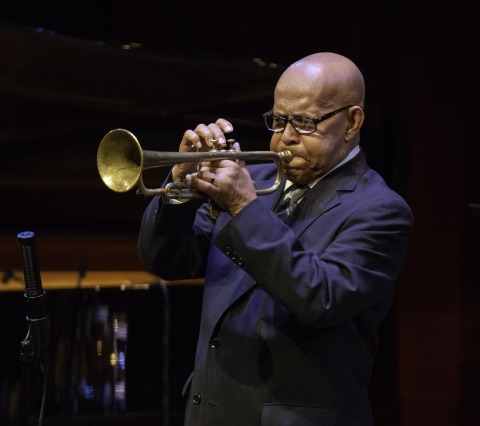 Eddie Henderson Quartet live at Moss Theater!
Eddie Henderson, the remarkable jazz trumpeter, embarked on his musical journey at the tender age of 9 with an impromptu lesson from none other than the legendary Louis Armstrong. His formal training began during his teenage years at the San Francisco Conservatory of Music, where he honed his trumpet skills and even graced the stage with the San Francisco Conservatory Symphony Orchestra. However, destiny took a decisive turn in 1957 when Eddie crossed paths with Miles Davis, a family friend. Mesmerized by Henderson's exquisite tone and musicality, Davis encouraged him to pursue a career in music. This pivotal moment marked the beginning of a lifelong musical relationship between the two, culminating in Eddie's heartfelt tribute album, "So What," released in May 2002. Eddie's journey from those early days to performing alongside iconic musicians like Dexter Gordon, Max Roach, and McCoy Tyner has solidified his status as a trumpeter extraordinaire, with his music resonating far beyond the notes he plays.
Yet, Eddie Henderson's story is more than just a musical one; it's a tale of serendipitous encounters and a rich family heritage steeped in entertainment. Born into a family of entertainers, Eddie had the privilege of learning from the best. His mother, a dancer at the original Cotton Club, and his father, a member of the popular singing group Billy Williams and the Charioteers, provided him with a vibrant artistic upbringing. Moreover, his stepfather's profession as a physician to legends like Miles Davis, John Coltrane, and Duke Ellington ensured that music remained a constant presence in his life. Balancing his dual passions, Eddie pursued both music and academia, eventually attending medical school and becoming a doctor. From his formative years in Herbie Hancock's groundbreaking Mwandishi sextet to his chart-topping hit "Prance On" and his collaborations with jazz luminaries, Eddie Henderson's story is a testament to the harmonious interplay of music and life experiences in shaping an extraordinary career.
Featuring:
Eddie Henderson

Trumpet

Adam Ledbetter

Piano

Jeff Littleton

Bass

Roy McCurdy

Drums