Sat, Mar 19, 2016 - 8:30 pm
Buy Tickets
One of the most distinctive creative forces in Latin Music
Information Line: (310) 271-9039
Direct Ticket Line: (800) 838-3006 ext. 1
Moss Theater
New Roads School at The Herb Alpert Educational Village
3131 Olympic Blvd.
Parking:
Free parking onsite. Between Centinela and Stewart St. Enter at New-Roads-School sign. Theater is immediately on right.
Directions
Upcoming Events
Nate Holden Performing Arts Center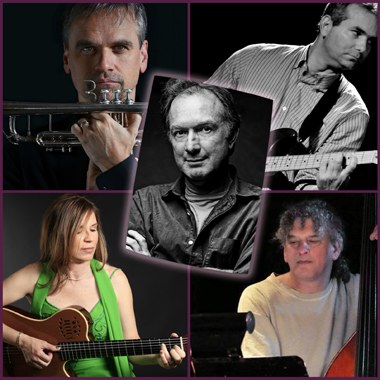 I fell in love with Luis Muñoz's "Voz" the moment I heard it. Having now read the rave reviews from around the globe, I find I am not alone. Luis seems to disappear into the music, no ego here– just sheer beauty. . .
Costa Rica native Luis Muñoz (percussionist, keyboardist and composer) has produced an elegant album of nine original songs. It is a stunning piece of music featuring the vocal talents of Téka, Magos Herrera and Claudia Acuna, who all shine on this carefully crafted masterpiece. –latinomagazine.com
Muñoz is one of the most distinctive creative forces in Latin music today. He has created an album of beauty and spirit featuring the luminescent playing of trumpeter Jonathan Dane, Brendan Statom who keeps it all together as his acoustic bass lines weave in and out of the melody and guitarist Daniel Zimmerman. –all about jazz
São Paulo-raised vocalist, the incomparable Téka Penteriche is one of the most original and powerful vocalist/guitarists to come out of Brazil in many years. Her breathy, sensual vocals glide beautifully over the melody. No one sounds like Téka. She lends an ever-surprising emotional impact delivered in ways that will leave the listener gasping.
Muñoz is an artist who's voice comes through every track on "Voz." His music is sensuous, alive and undulating with heart,  soul and spirit. What's particularly impressive about "Voz" is Muñoz's restraint and exquisite taste… A gossamer dreamscape of an album! –Andrew Gilbert/the California Report
Featuring:
Luis Muñoz

drums, melodica and composition

Téka

voice and acoustic guitar

Jonathan Dane

Trumpet

Brendan Statom

acoustic bass

Daniel Zimmerman

acoustic and electric guitars