Sun, Mar 31, 2019 - 5:00 pm
Buy Tickets
SAT 3/30 $45 Stu. $30 | SUN 3/31 $40 • Stu. $30
This event is presented on Saturday, March 30th ...AND... Sunday, March 31st
Information Line: (310) 271-9039
Direct Ticket Line: (800) 838-3006 ext. 1
Moss Theater
New Roads School at The Herb Alpert Educational Village
3131 Olympic Blvd.
Parking:
Free parking onsite. Between Centinela and Stewart St. Enter at New-Roads-School sign. Theater is immediately on right.
Directions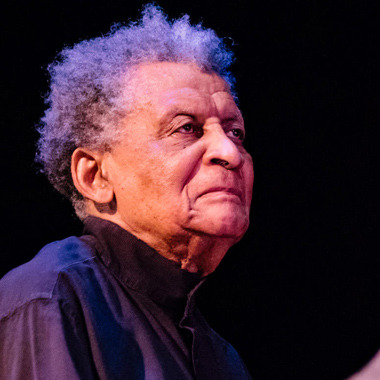 Saturday March 30 - 8:00 pm
&
Sunday March 31 - 5:00 pm
Abdullah Ibrahim is the pianist Nelson Mandela called "South Africa's Mozart." The original purpose of this show was to honor Ibrahim's late-'50s band, the Jazz Epistles, and to reunite him with the other star of that group, trumpeter Hugh Masekela. Sadly, Masekela's death in January 2018 made the reunion an impossibility. Now this South African piano eminence takes his Jazz Epistles legacy forward on his own meditative journey with Ekaya, incorporating the many brilliant colors of his septet. 
In some ways, Masekela's absence only adds to the poignancy of Abdullah's solo ruminations. Here, it seems, is Cape Town's last Jedi, summoning the spirit of a fallen comrade with every note he plays (and every note he doesn't). It is almost as if Ibrahim is repeatedly dreaming his bandmates into existence. Or, if you will, 'using the Force', much like Luke Skywalker in The Last Jedi, to project images onstage to do what he can not or simply prefers not to do.
On this special occasion at the Jazz Bakery, Abdullah Ibrahim and Ekaya will reprise the magic of that moment at the dawn of the 1960s, when an all-African form of bebop seemed not only possible but inevitable.
(Check out the video on this page. It begins with Abdullah solo. The full band joins in at 12:14 .)

This performance is made possible, in part, by funding from the National Endowment for the Arts.
Featuring:
Abdullah Ibrahim

piano

Anoah Jackson

bass, cello

Will Terrill

drums

Cleave Guyton Jr.

alto saxophone, flute, clarinet, piccolo

Lance Bryant

tenor saxophone

Andrae Murchison

trombone, trumpet

Marshall McDonald

baritone saxophone