Sat, Oct 13, 2018 - 8:00 pm
Buy Tickets
General: $40 Students: $25
Information Line: (310) 271-9039
Direct Ticket Line: (800) 838-3006 ext. 1
Moss Theater
New Roads School at The Herb Alpert Educational Village
3131 Olympic Blvd.
Parking:
Free parking onsite. Between Centinela and Stewart St. Enter at New-Roads-School sign. Theater is immediately on right.
Directions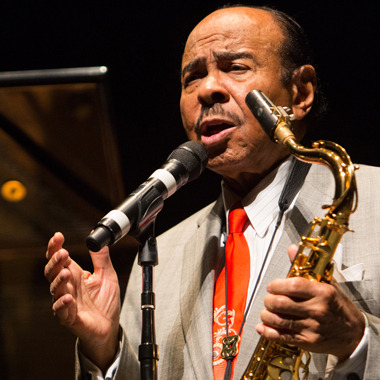 A living jazz legend who's engine is still running strong !
Benny Golson is a composer, arranger, lyricist, tenor saxophonist and raconteur of world note who has played in the bands of everyone from Benny Goodman to Dizzy Gillespie.
"There are few true innovators and even fewer with a career that redefines the term 'jazz'. Golson is one of the most complete musicians of the past several decades with an unusually brilliant melodic sense.His compositions such as: Killer Joe, I Remember Clifford, Along Came Betty, Stablemates, and Whisper Not have become standards of the jazz repertoire." The New Yorker
"In live performance Benny consistently knocks audiences off their feet... The icing on the cake is the warmth and humor with which he tells his marvelous stories that make jazz history come alive. Golson offers soul and warmth as well as considerable technique, leaving no doubt that he is indeed tenor sax royalty." Jazziz
"Benny Golson's prodigious musicianship continually impresses me with the freshness of his musical conceptions. But I am never surprised that they always work exactly as he says they will... because they always do." Nat Hentoff, The New York Times
"Golson's sound is rich and thick, unique and instantly identifiable. This humble musical giant continues to impress critics, fans and fellow musicians alike. An evening spent with Benny and his quartet will be a memorable one!" Jazzscene
This performance is made possible, in part, by funding from the National Endowment for the Arts.
Featuring:
Benny Golson

tenor saxophone

Tamir Hendelman

piano

Mike Gurrola

bass

Roy McCurdy

drums