Sun, Dec 3, 2017 - 7:30 pm
Buy Tickets
General: $35 Students: $25
Information Line: (310) 271-9039
Direct Ticket Line: (800) 838-3006 ext. 1
Moss Theater
New Roads School at The Herb Alpert Educational Village
3131 Olympic Blvd.
Parking:
Free parking onsite. Between Centinela and Stewart St. Enter at New-Roads-School sign. Theater is immediately on right.
Directions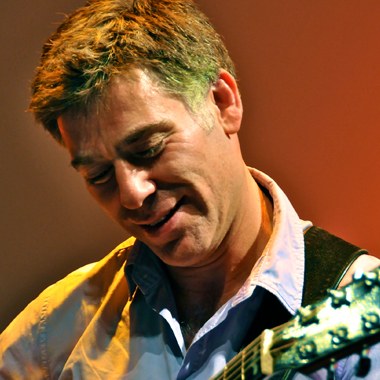 With this quartet Bernstein has fashioned his own spin on the rich legacy of Thelonious Monk and others. Pianist Gerald Clayton honors the legacy of his famed father, bassist John Clayton. Gerald's imaginative daring reinforces Peter's insightful repertoire decisions with great beauty.
Roy McCurdy is a living-breathing encyclopedia of jazz drumming with an expertise that has swung decades of bands. While young bassist Mike Gurrola shows that this music will endure !
Legendary guitarist Jim Hall noted: "Peter has paid attention to the past as well as the future. He is the best of them all for swing, logic, feel and taste; an extremely elegant musician with a gorgeous tone."
Peter Bernstein has built a career in the service of others, beginning with Sonny Rollins. However, he has slipped seamlessly into the role of leader... balanced, polished, an erudite guitarist. Bernstein's music is devoid of rough edges yet always sounds bluesy. –JazzIs
"A feather-light touch, an encyclopedic knowledge of chords and the ability to play standards like he's inventing them on the spot. Mr. Bernstein is a fluidly improvising guitarist in the post-bop tradition, with formidable control over harmony and a beautiful sound." –The New York Times 
The sublimated urgency of his playing personalizes every note and makes them glow. The clarity and purity of his guitar sound is in a warm, ringing, muscular tone which echoes that of such giants as Wes Montgomery, Jim Hall, and Kenny Burrell. –Jazztimes
Peter's good taste has assembled this quartet. ...What transpires is riveting !
Featuring:
Peter Bernstein

guitar

Gerald Clayton

piano

Mike Gurrola

bass

Roy McCurdy

drums