Fri, Oct 19, 2018 - 8:00 pm
Buy Tickets
General: $35 Students: $25
Information Line: (310) 271-9039
Direct Ticket Line: (800) 838-3006 ext. 1
Moss Theater
New Roads School at The Herb Alpert Educational Village
3131 Olympic Blvd.
Parking:
Free parking onsite. Between Centinela and Stewart St. Enter at New-Roads-School sign. Theater is immediately on right.
Directions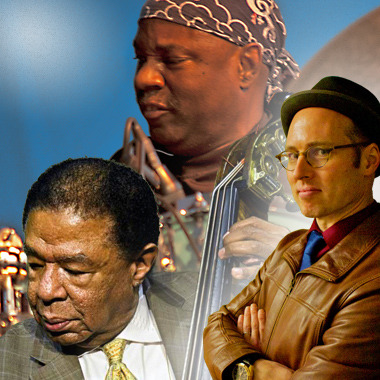 The trio was here for Buster's 75th.
Let's see what a year has brought to this illustrious crew?!!
George Colligan is a New York based pianist, multi instrumentalist and bandleader, who is one of the most original and compelling jazz artists of his generation. Colligan is also a grant-winning composer honored by both Chamber Music America and the Doris Duke Foundation.
George is a first-call player with lots of creds. He has recorded, and/or performed with Jack DeJohnette, Cassandra Wilson, Gary Bartz, Tom Harrell, Steve Wilson, Nicholas Payton, Christian McBride, Lee Konitz, Stefon Harris... the list goes on.
Colligan's musical style incorporates everything from showtunes to funk, from free improvisation to 20th century classical music. His performances include dazzling technique as well as mature restraint. —New York Times
"Yes, Brad Mehldau is astonishing but Colligan is an equally deserving torch-carrier of the piano trio tradition." —All About Jazz
"Pianist George Colligan stole the set with a display of technique that inspired a standing ovation." —JazzIs, review of a Ravi Coltrane concert
"As a creative artist, he's really up there…. In terms of technique, knowledge of music and improvisational creativity, there aren't a whole lot of cats from his generation that are any better. As a matter of fact, I can't think of any." —Don Braden, blindfold test for Jazz Times
"In Williams' hands, the bass is a fully articulate solo voice. His big, deep, resilient and inventive playing has made him the bassist of choice throughout the jazz world. He has worked with just about everyone of import on the jazz scene, including long stints with Herbie Hancock and Nancy Wilson." —JazzIs
Lenny White is a three-time Grammy Award-winning American jazz fusion drummer, best known for his work with Chick Corea's Return to Forever. White has been described as "one of the founding fathers of jazz fusion"
Buster Williams' bass sponsored by Stein on Vine.
Featuring:
George Colligan

piano

Buster Williams

bass

Lenny White

drums