Sat, Nov 4, 2017 - 8:00 pm
Buy Tickets
General: $35 Students: $25
Information Line: (310) 271-9039
Direct Ticket Line: (800) 838-3006 ext. 1
Zipper Concert Hall-The Colburn School
200 South Grand Ave.
Diagonally across from Disney Hall
Parking:
Paid parking is available in Disney Hall or at MOCA.
Directions
Upcoming Events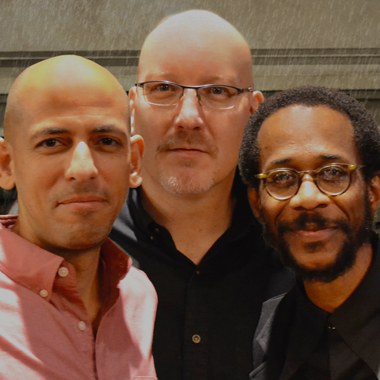 "All-star bands are usually a hit-and-miss prospect, however, this big three, exceed expectations! Scott Colley is one of the best bassists in the world (and the best from Eagle Rock High School). Brian Blade remains one of the most creative and dynamic jazz drummers alive and Edward Simon is at the top of his game. These extraordinary instrumentalists convert their shared histories into nimble, poetic, genre-leaping music." –Gary Fukushima
Scott Colley "An impressive combination of head and heart, with traditional roots and forward thinking on both acoustic and electric bass. Colley sets a staggered, yet still grooving pulse while soloing, shifting from quirky to quintessential. His cerebral balladry shifts chameleon-like... always maintaining a clear, cohesive and cogent conceptual voice.
Brian Blade His is a music beloved by the jazz community. His playing is distilled into a high potency. Blade, can break off a brilliant kinetic flash at just about any moment, creating a  delicious tension. "Revealing more of ourselves is always daunting," says Blade, "but the real challenge is to be honest with myself and to let more of who we are be seen and heard through the music."
Edward Simon is a pensive, rhythmically astute, versatile player aesthetically concerned with simplicity and economy. In 1989 Simon took over the piano chair in Bobby Watson's group Horizon and has never looked back ! Simon has become increasingly interested in the folk music of his native land resulting in his "Venezuelan Suite" which crosses the barriers between jazz, chamber and folk music. 
Featuring:
Scott Colley

bass

Brian Blade

drums

Edward Simon

piano