Sat, Sep 10, 2016 - 8:00 pm
Buy Tickets
Information Line: (310) 271-9039
Direct Ticket Line: (800) 838-3006 ext. 1
Thayer Hall at the Coburn School
200 South Grand Ave.
Diagonally across from Disney Hall
Parking:
Paid parking is available in Disney Hall or at MOCA
Directions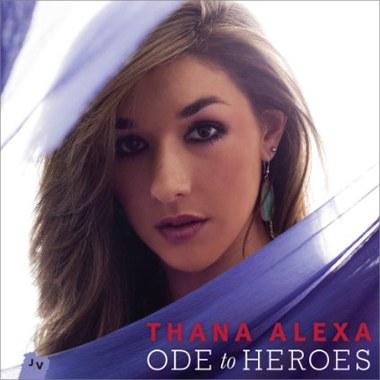 In June of 2015, right around the time "Birdman" opened, the Jazz Bakery was privileged to present brilliant composer-drummer Antonio Sanchez. He turned out to be every bit as mind-blowing as expected. But the surprise was his vocalist, Thana Alexa. 
I doubt that anyone who heard her that night will ever forget her. Her musicality took my breath away. I am so pleased that we now have another opportunity to share her with you. (Her current release "Ode to Heroes" is available on Jazz Village)
Since we first heard her, Alexa has received nothing but astonishing reviews. 
Downbeat: A radiant voice… sparkling artistry and unerring confidence… Ascendant Singer…  young and chic possessing an electric stage presence… a warm-hearted chanteuse with old-school charm.
Jazz Times: her voice... percussive, lush, lyrical, precise and distinct, employs a wide range of vocal techniques and makes them all work beyond belief… Though young, she has the daring and maturity of someone 30 years older, steady and soulful. Vocals, enthralling ... compositions, heart-warming... arrangements, heart-stopping.
Jazz Weekly: Her out-of-this-world scatting does not simply blow open the door to the future of jazz vocals, but blows it out explosively, stating, "I am here!"... rich and assured voice, comfortable with both lyrics and wordless sounds as she gives loving tribute to jazz.
Pat Metheny: Alexa's music is challenging, but her use of musicians and her voice makes everything sound natural and easy.
Luciana Souza: "such a personal and strong approach to singing, arranging and composing... That's what we need! that's what jazz needs"!
All about Jazz: Thana rules with precision and brilliance… If jazz singing can be riveting, then here is its definition… This lady excites in a multitude of ways. She's fresh, creative and yet with a stiletto'd heel in the tradition. Bring her to LA…" WELL WE ARE!
Featuring:
Thana Alexa

vocals

Ben Flocks

saxophone

Eden Ladin

piano

Noam Wiesenberg

bass

Peter Kronreif

drums