Sun, Apr 14, 2019 - 4:00 pm
Buy Tickets
Information Line: (310) 271-9039
Direct Ticket Line: (800) 838-3006 ext. 1
Moss Theater
New Roads School at The Herb Alpert Educational Village
3131 Olympic Blvd.
Parking:
Free parking onsite. Between Centinela and Stewart St. Enter at New-Roads-School sign. Theater is immediately on right.
Directions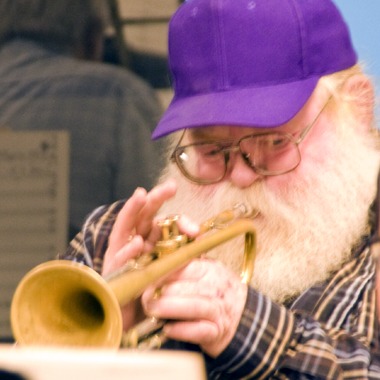 Straight Ahead
Ron Stout is a perfect trumpet player. He excels in any format. Think about his years with Horace Silver's quintet, or Pepper Adams' small group then listen for him on records by pop sensations like, the Supremes, The Temptations and Righteous Brothers. If that's not enough, dig him in the first call trumpet chair of the great big bands from, Woody Herman through today's classics like John Clayton or Bill Holman. We could add volumes to illustrate his fantastic career! But when someone needs to fill that chair, Ron Stout's name is one of the first mentioned. We heard him just recently at the Jazz Bakery with Phil Norman's Tentet and Ben Clatworthy's System 6. As always, he was brilliant.
Ron was born into a musical family right here in California. He is a third generation musician, and a Musician's Union member since he was 15! In addition to a full schedule of touring and recording, he has vast experience in teaching, both as a private instructor and in the role of clinician. 
However, this time around we will have the pleasure of hearing Stout with his very own modern quintet. We can hardly wait to hear his group, and we bet a lot of you feel the same way.
So put Ron Stout's Modern Quintet on your dance card. (I don't really mean you are going to a dance, but if the spirit moves you…...)
Ron Stout photo by Gregory Dahl
Featuring:
Ron Stout

trumpet

Jerry Pinter

tenor saxophone

Justin Kauflin

piano

Katie Thiroux

bass

Matt Witek

drums