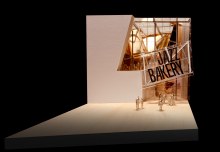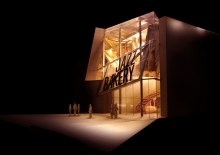 Read this great article in the LA Times about Frank Gehry's LACMA show featuring our new building!
Article in the LA Times by Chris Barton
L.A.'s renowned architect (and our beloved building designer) Frank Gehry is the subject of a new exhibit at the Los Angeles County Museum of Art (LACMA) that runs from September 13 through March 20, 2016. Chief among myriad reasons for visiting this comprehensive celebration of Frank's career is that it will be the first-ever public unveiling of his model for the Jazz Bakery.
For years we've been dying to show off his ingenious design … and now, finally, you get to see it for yourself – up close! Typical of Frank's style, his model is a vision of modern aesthetics incorporating glass and metal. What's unique aboutthis design, however, is how he managed to include his signature "curving metal" (brass in this instance … of course!) into the narrow lot generously gifted to us by Culver City. Ensconced by ground-to-ceiling glass, the two-story, undulating brass flourishes will be visible to everyone who passes by; at the same time, the building's slim profile won't crowd our next-door neighbors on Culver and Washington Blvds. And that's just the façade! Inside, Frank's true genius is on display with his plan for our 250-seat main theater. Again working with strict limitations of space, he has maximized our lot's potential by creating a malleable "theater in the round" that manages to be both majestic and intimate. Remember the plastic patio chairs at our former Helms Bakery location? You won't after you've seen Frank's vision of a proper SoCal jazz palace. Our city is blessed to count him among its citizens, and we are incredibly lucky to have to have him for a friend. Is it any wonder Frank Gehry has been called the "Starchitect" of Los Angeles?
Exhibit: "Frank Gehry"
September 13, 2015 to March 20, 2016
Los Angeles County Museum of Art