Thu, Oct 25, 2018 - 8:00 pm
Buy Tickets
General: $40 Student: $30
Information Line: (310) 271-9039
Direct Ticket Line: (800) 838-3006 ext. 1
Moss Theater
New Roads School at The Herb Alpert Educational Village
3131 Olympic Blvd.
Parking:
Free parking onsite. Between Centinela and Stewart St. Enter at New-Roads-School sign. Theater is immediately on right.
Directions
Sneak Peeks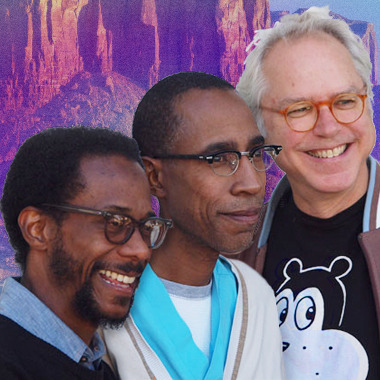 Circuit Rider: Up Close & Personal... Hear Them Live !
Listening to Ron Miles play his cornet is a lesson in the history of the African-American music called jazz. Ron plays a one-of-a-kind, brushed gold Monette trumpet in G, not the conventional B-flat horn used by most players. He says the sound is a little deeper, and the pitch difference makes playing the horn more than a little challenging. But talk about grace and control: Ron Miles sings through his horn!
"Brian Blade is simply a force of nature. He is drummer of choice for many heroes of the music world: Wayne Shorter, Seal, and Bill Frisell, to name a few lucky enough to ride the wave of his delicacy and strength. Blade says "I feel like I need to keep challenging myself and peeling away layers to get to the core of who I am and what I have to offer." What he offers is a 'drummer for all seasons' enriching all who share the music with him." JazzIs
"Guitarist Bill Frisell has found what connects all music for him: improvisation and a sense of play. Unlike others, who tend to duck passion, Mr. Frisell plays up the pleasure in the music and also takes on another often-avoided subject, tenderness. Frisell is a revered figure among musicians - like Miles Davis and few others, his signature is built from pure sound and inflection; an anti-technique that is instantly identifiable." The New York Times 
Featuring:
Ron Miles

trumpet

Bill Frisell

guitar

Brian Blade

drums