Sat, Nov 3, 2012 - 8:00 pm
Buy Tickets
$30 general - $20 students - 1 Show
Information Line: (310) 271-9039
Direct Ticket Line: (800) 838-3006 ext. 1
Musicians Institute Concert Center
Parking:
Limited street parking / Paid parking - across the street (price varies wildly) / Public lots near Selma and Las Palmas one and a half blocks east of McCadden - $5 to $8.
Directions
Audio
Upcoming Events
Moss Theater (New Roads School at The Herb Alpert Educational Village)
Musicians Institute Concert Center
Moss Theater (New Roads School at The Herb Alpert Educational Village)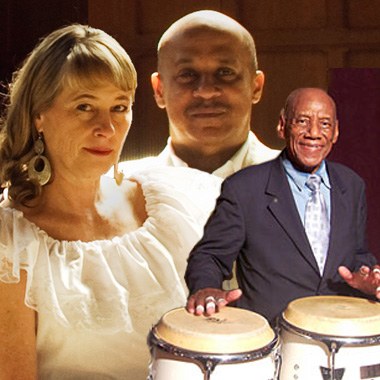 When two of the most acclaimed modern explorers of Cuban music combine their prodigious talents on the music they love, musical magic happens. Jane Bunnett and Hilario Duran are both virtuoso players, arrangers, composers, and bandleaders in their own right. The musical excellence of their debut recording, Rhapsody Cubana, will come as no surprise, though its sound will turn some heads. Both Duran and Bunnett are famed for their innovative take on contemporary Latin jazz and Cuban styles. They are jazz players, after all, so improvization is part of their musical DNA. Rhapsody Cubana could be termed the Cuban equivalent of The Great American Songbook, full of passion and melody, the very essence of Cuban music. When, as on this tour, they add the internationally-celebrated conguerist Candido, who is 91 years young, we are in for a rare treat!! Conga player, Candido de Guerra Camero was born in Havana, Cuba, on April 22, 1921. He names Max Roach and Kenny Clarke as primary inspirations. Over several decades he combined his highly developed Afro-Cuban artistry with disco, funk, and practically anything else that was in the air. He is among the most ubiquitous of the Cuban and Caribbean percussionists who enlivened and enriched the musical landscape of North America during the second half of the 20th century, and has recorded with everyone from Dizzy Gillespie to Tony Bennett. A triumphant Candido has now sailed through the first years of the 21st century as resilient, creative, and full of life as ever. These three promise a thrilling evening of Cuban music, treated with love and respect !
Featuring:
Jane Bunnett

soprano sax and flute

Hilario Duran

piano

Candido

Congero