Sat, Sep 29, 2018 - 7:00 pm
Buy Tickets
$2000 Innercircle Membership •• $500 V-VIP Center Front • • • $250 VIP Center • • • $150 Orchestra • • • $75 General • • • $40 additional seating
Tickets in EXCESS of $75 are tax deductible to the extent allowable by law and include the post-concert Artist Reception.
Information Line: (310) 271-9039
Direct Ticket Line: (800) 838-3006 ext. 1
Moss Theater
New Roads School at The Herb Alpert Educational Village
3131 Olympic Blvd.
Parking:
Free parking onsite. Between Centinela and Stewart St. Enter at New-Roads-School sign. Theater is immediately on right.
Directions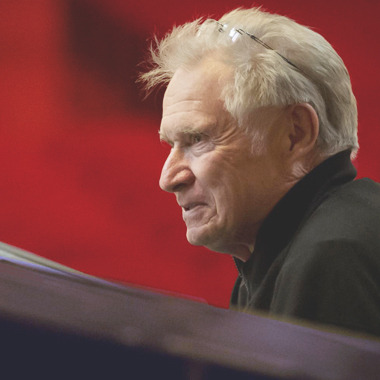 Dave Grusin solo piano


plus Film Preview, "Dave Grusin: Not Enough Time"
Oscar and Grammy-winning composer, producer, and jazz pianist, Dave Grusin, is the subject of a documentary film produced by filmmakers / jazz musicians Barbara Bentree and John Rangel of Jindojazz. Their film is a way-overdue tribute to Dave's incredible body of work and a retrospective of his massive contribution to the film and music industries.
In a 50-year career, Dave has been nominated for thirty-eight Grammy Awards, four Golden Globes, and eight Academy Awards including "Tootsie," "On Golden Pond," "Heaven Can Wait," "Three Days of the Condor," and "Milagro Beanfield War" (for which he won an Oscar). He has also performed in concert halls and major jazz festivals all over the world... A very busy man!
Michael Keaton — "Everybody in L.A., not just in the music world but also, the film world, knew Dave Grusin."
Quincy Jones — "he's like a blood relative. Dave is one of my favorite human beings on the planet!"
Marilyn Bergman — "He's so understated as a person, maybe to a fault. And yet, the understatement and the subtlety are part of what makes him so great."
Dori Caymmi — "To be in the same place with Jobim and Dave Grusin makes me very lucky!"
Tom Brokaw — "Early on, Dave would be sitting at the bar and someone would say, 'That's Dave Grusin!' and it was as if they were talking about a kind of God-like figure in the music world."
Sydney Pollack — "Grusin can do anything…and he's done everything."
Tickets in EXCESS of $75 include the post-concert Artist Reception and are tax deductible to the extent allowed by law
$2000
Innercircle Membership preferred seating
$500
V-VIP Center Front Seating
$250
VIP Center Seating
$150
Orchestra Seating
$75
General Available Seating
$40
Available Seating
Buy Tickets