Sat, Apr 13, 2019 - 8:00 pm
Buy Tickets
Information Line: (310) 271-9039
Direct Ticket Line: (800) 838-3006 ext. 1
Moss Theater
New Roads School at The Herb Alpert Educational Village
3131 Olympic Blvd.
Parking:
Free parking onsite. Between Centinela and Stewart St. Enter at New-Roads-School sign. Theater is immediately on right.
Directions
Audio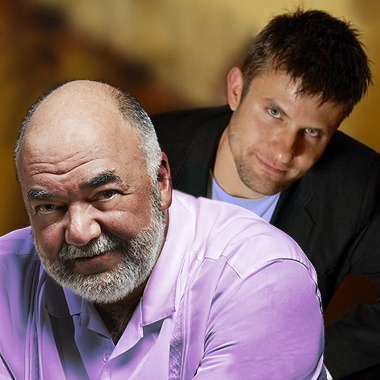 Colorful and Complex... an intriguing ride!
In the best tradition of third stream exploration, Hungarian pianist, composer and arranger, Daniel Szabo has created a magnum opus deserving of the title and accolade... "Visionary" Legendary jazz-fusion drummer, Peter Erskine, lends his artistry throughout and has co-produced this project on his Fuzzy Music label. Erskine says: "The kaleidoscopic breadth of Szabo's repertoire celebrates a blend of jazz, classical and film music idioms— robustly American yet genetically Hungarian. This is the sweetest fusion music I've played!"  
Daniel Szabo's subtle nuances of chamber music joined with jazz sensibilities creates a pallet of new colors placed gracefully both inside and outside the lines of the coloring book. Daniel's particular taste and character is influenced by the complex musical heritage of his Eastern-European roots. His outstanding line-up of musicians merge sublimely to manifest this ambitious work.
Peter Erskine's storied career has propelled him through collaborations with just about every major player of the last two decades. Peter was voted 'Best Jazz Drummer of the Year' ten times by Modern Drummer magazine and was elected into the magazine's Hall of Fame in 2017. Erskine has been featured in everything from major jazz festivals to a solo concerto with the LA Phil, premiered at the Hollywood Bowl. Peter Erskine is indeed a man for all seasons!
"Concerts and Conversations with Southern California Jazz Legends" funded in part by the National Endowment for the Arts.
Featuring:
Peter Erskine

drums

Daniel Szabo

composer, pianist

Edwin Livingston

bass

Marc Lowenstein

conductor

Charlie Bisharat -1st violin / Sara Parkins -2nd violin

strings

Miguel Atwood-Ferguson -viola / Mike Kaufman -cello

strings

Chris Bleth -oboe / John Yoakum -english horn / Chad Smith -bassoon

reeds

Katisse Buckingham

flute/tenor sax

Kim Richmond

clarinet/alto & soprano sax

Phil O'Connor

bass clarinet