Fri, Oct 24, 2014 - 8:00 pm
Buy Tickets
General: $30 Students $25
One show - no intermission
Information Line: (310) 271-9039
Direct Ticket Line: (800) 838-3006 ext. 1
Zipper Concert Hall-The Colburn School
200 South Grand Ave.
Diagonally across from Disney Hall
Parking:
Paid parking is available in Disney Hall or at MOCA.
Directions
Upcoming Events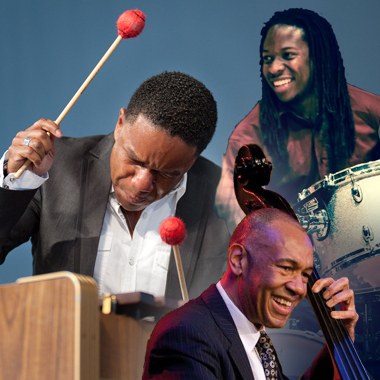 Vibraphonist-composer Stefon Harris  was heralded by the Los Angeles Times as "one of the most important young artists in jazz who will unquestionably develop a long and extraordinary career.". This prophecy has proven true. The Jazz Bakery has been fortunate enough to host Stefon several times in various formats. On each occasion, he never fails to surprise and delight! His passionate artistry, energetic stage presence, and astonishing virtuosity have propelled him into the forefront of the current jazz scene. Now widely recognized and lauded by both his peers and jazz critics alike, Harris is committed to exploring the rich potential of jazz composition while blazing new trails on the vibraphone.
Described as: "hovering over his vibraphone and marimba, hands fluttering in a blur across the keys." He arranges his two instruments at a right angle, and vigorously works the space between them, darting back and forth with a dancer's athletic grace. He has a sense of proportion to match his exuberance, plus a combination of sensitivity and virtuosity. He is as thrilling to watch as to hear!
Magnificent bassit John Clayton is a natural born multitasker. The many roles in which he excels — composer, arranger, conductor, producer, educator, and yes, extraordinary bassist — garner him a number of challenging assignments and commissions. With a Grammy on his shelf and eight additional nominations, artists such as Diana Krall, Paul McCartney, McCoy Tyner, Milt Jackson, Regina Carter, Dee Dee Bridgewater and Dr. John all vie for a spot on his crowded calendar. We are so lucky to snag him for this evening.
Using  Jonathan Pinson on drums fully reflects Stefon's openness to gifted young players. Pinson is a remarkable drummer who, while attending Hamilton High School, won the Los Angeles Music Center's Spotlight Award. He has studied primarily at the Colburn School of the Performing Arts (the site of this evenings performance!).  Pinson is currently attending the prestigious Thelonious Monk Institute at the UCLA Herb Alpert School of Music and has already appeared with major artists at numerous jazz festivals around the world.
Featuring:
Stefon Harris

vibraphones

John Clayton

bass

Jonathan Pinson

drums