Mon, Oct 9, 2017 - 7:30 pm
Buy Tickets
$35 Student •$75 General •$150 VIP I •$250 VIP II •$500 Sponsor •$2000 Inner Circle
Hosted by KPCC Radio personality Larry Mantle
Information Line: (310) 271-9039
Direct Ticket Line: (800) 838-3006 ext. 1
Moss Theater
New Roads School at The Herb Alpert Educational Village
3131 Olympic Blvd.
Parking:
Free parking onsite. Between Centinela and Stewart St. Enter at New-Roads-School sign. Theater is immediately on right.
Directions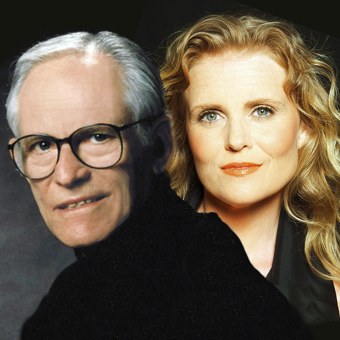 Event hosted by KPCC Radio personality Larry Mantle
Flash! Amazing flutist Hubert Laws has been added to this show as a special guest!
The Oscar winning songs of Alan and Marilyn Bergman have been enriching the Great American Songbook for over five decades. As lyricists for film, stage, and television they have created unforgettable images... and along the way have enriched the repertoire of every major vocalist !
Alan Bergman's singing has now garnered well earned praise... NY Times: "Mr. Bergman's natural style suggests a merger of two of his idols, Johnny Mercer and Fred Astaire."... JazzIs: "It would be hard to imagine anyone who could bring every phrase, every subtle nuance, every internal rhyme, every sly, inside joke, to life the way Bergman does."
Tierney Sutton was chosen by Clint Eastwood to write the lyrics to the end-title song "Flying Home" for the 2016 box-office smash, "Sully." Tierney is known for her impeccable voice and imaginative treatments of The American Songbook. She is heralded for her jazz storytelling and ability to use her voice as an instrument.
We are incredibly lucky to have artists like Alan, Marilyn and Tierney as friends and supporters. Please join us for an intimate evening of songs to benefit the 2017 Jazz Bakery Performance Fund. We eagerly look forward to your participation in sustaining the programing you love.
• • •
To Benefit The Jazz Bakery Performance Fund:
$35 - Student (under 21, w/current ID)
$75 - General Admission
$150 - VIP I = Preferred Seating, Artist Reception
$250 - VIP II = VIP Parking, VIP Seating, Artist Reception
$500 - Sponsorship: VIP II plus recognition from the stage and in program
$2,000 - Inner Circle = become a member and receive two tickets to this event, Sponsorship & VIP II benefits, plus all the benefits of Inner Circle membership
Any amount greater than $35 donated to The Jazz Bakery for this fundraiser is tax deductible to the extent allowable by law.
Featuring:
Alan Bergman

singer, songwriter

Tierney Sutton

vocals

Hubert Laws

flute

Bill Cantos

piano

Trey Henry

bass